"IT SUX," -Sai, "...could use a lot more talent but as you can see, we have a case of talent deficiency here."

[CLICK TO ENLARGE POR FAVOR]
Feast ur Eyes upon my 2nd successful AND complete digi-image done completely by mouse. (Lineart SOLELY by M.S. Paint)
Took me pretty darn long to get the lineart down here:

<<<< Tambien "Clicky" por favor.
FYI view the entire lineart is actually a heeby-jeeby thrashjob cuz I had to average in soooooeee many strokes and I kept loosing my patience. Here is a snapshot of its actual pixels: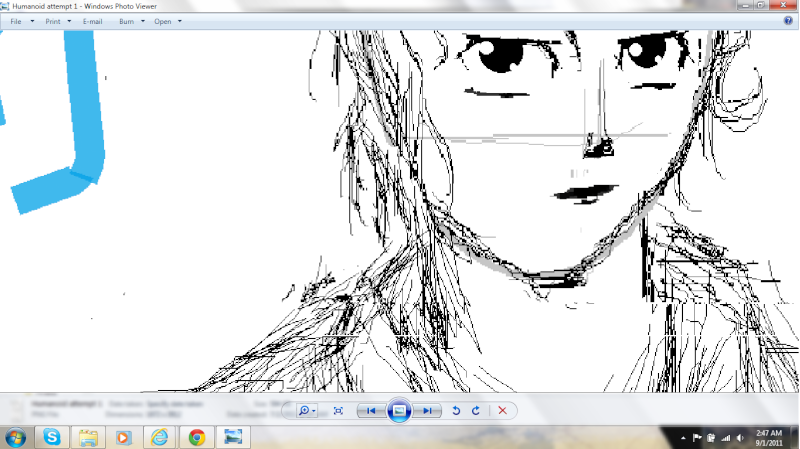 Well It was amazing handicapping myself and sketching without any handdrawn guides like I normally use (I scan in my handsketches and leave it under my lineart layer and simply use that as guide). Anyhoo even though the actual pixel-image of the "finished" product (after painting) looks horrendous a distant perspective image seemed slightly satisfying. The reason I was unable to get my desired hi-fi effects was 'cuz it was so 'effing annpying to render an image with a forest of pixels and when the rendering method is NOT designating the outline. I painted it with Paint Tool Sai *All Rights Reserved tiny R* and you must select either by using "Magic Wand" or using the "Select" tool which is like painting over 'ur desired selection to render the image. Blah blahblah yadiada doo too much stoof to tell so I'll shut my trap for now.